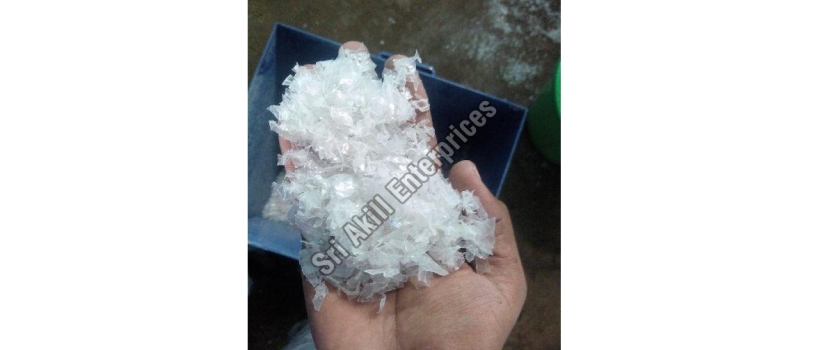 Polyethylene terephthalate (PET) is a type of polyester (just like the clothing fabric). For packaged food foods and drinks, personal care, as well as many other consumer items, it is fabricated or shaped into plastic bottles and containers. Transparent PET bottle grinding scrap always stays in high demand because of the material's reusability.

Uses:
A popular packaging material, PET is strong and lightweight, non-reactive and economical, as well as shatterproof, making it an excellent choice. Environmental Protection Agency (EPA) has determined that PET is safe for use in food and beverage applications as well as personal care, medicinal and wellbeing applications.

The material is also resilient to microorganism invasion and therefore does not respond with food or beverages. It is also non-biodegradable. Globally, health authorities deem it safe for use in food and beverages. As a result of PET's superiority over glass, it is used to package a wide variety of foods and beverages.

Shampoo, liquid hand soap and mouthwash are all packaged in PET containers. Tennis balls are also packaged in PET containers. It's no secret that PET is used to essentially make all single-serving and 2-litre bottles of carbonated beverages and water sold. PET containers that can be heated up in the oven or microwave are made from special grades of the material that can withstand the heat of the oven or microwave.

Made From:
Ethylene glycol (EG) and terephthalic acid (TA) is used to make PET. When heated to a molten state, PET resin pellets can be deformed or moulded into virtually any shape. While actively looking for polymers that could be used in the production of new textile fibres, chemists discovered PET in the mid-1940s.

Refilling And Reusing:
For both single-use and repetitive PET bottles, the FDA as well as other health-safety agencies around the world have given the green light. Many people believe that refilling or reusing PET bottles will end up causing the bottle to degrade or release harmful chemicals.

When used properly, PET remains stable and inert and is resilient to microorganism attacks. As a result of testing by regulatory agencies, neither new nor re-used PET bottles were found to contain dangerous substances.

As a result, it is necessary to thoroughly clean PET bottles before refilling or reusing them. Make sure you use hot water and soap. Ensure that it is completely dry to prevent the growth of any bacteria. If a bottle has been scratched on the inside, customers must avoid reusing it, as bacteria could become embedded in the scratches.

A bio-inert material, PET will not really react with food or beverages and therefore is resilient to microorganism invasion, making it ideal for packaging. According to the Food and Drug Administration (FDA), the European Food Safety Authority (EFSA), and other health-safety agencies, it is safe for interaction with foods and beverages.

Over the past 30 years, it is used by customers all over the world without causing any harm whatsoever. PET and PET packaging have been repeatedly proven to be safe through extensive testing. When ingested, PET is biologically inert and will not harm you.

Recycling:
Unlike other plastics, transparent PET bottle grinding scrap can be recycled and is a highly sustainable material. In addition to being reprocessed into food, beverage and intimate care containers as well as carpet as well as clothing fibres, auto components as well as construction or manufacturing strapping and other components for packaging.

Recovery of PET is possible through a sequence of specific rinsing mechanisms or chemical treatment that breaks down PET into its raw resources or intermediate products, which would then be purified and transformed into new PET resin.

Many different products could even be made from PET bottles, jars, syringes, and more. There are many uses for reprocessed PET. It can be used to make new PET bottles as well as containers as well as floor coverings and clothing. It can also be used to make industrial strapping or cord.

Environmental Benefits:
Compared to glass, aluminium, as well as other package materials, PET is a highly energy-efficient type of material with a minimal environmental impact. Even though PET's raw materials come from crude petroleum, about 40 per cent of that energy is stuck inside the PET polymer so that it can be recovered and reused each time PET is reprocessed.

This enables more products to be shipped with less packaging, very little weight, and much less fuel. PET is a truly sustainable element with a significant environmental profile because of these factors, according to numerous life cycle studies.

Final Words:
A great way to demonstrate how eco-friendly and sustainable PET packaging has always been used in recycled PET containers to create fresh food-grade bottles as well as containers. There is a steady increase in the number of advanced and effective PET bottle recycling plants being built all around the world.
This entry was posted on September, 20, 2021 at 11 : 44 am and is filed under Bottle Scrap. You can follow any responses to this entry through the RSS 2.0 feed. You can leave a response from your own site.